So you are finally taking the plunge and going to Jamaica! Why not? White sand beaches, crystal clear water, as much or as little activity as you want, and amazing food.
The weather is remarkably consistent year-round - highs in the mid-80s, lows in the low-70s F. During the summer, the beach is less-crowded and hotel rates are twenty to forty percent lower than in the winter. The October hurricane season in the Caribbean typically has a minimal effect on Jamaica.
REMEMBER: WE BEAT ANY PRICE AND OFFER FREE UPGRADED FLIGHTS AND HOTEL SUITES, ( Use the Contact Us form or Email: LetThereBeTravel@gmail.com !
Insider tip:
To cap off the perfect insider trip to Jamaica, enjoy one of the island's unique pleasures, rafting. For about $40, you and a friend can hop aboard a bamboo raft and enjoy a leisurely trip down one of Jamaica's rolling rivers.
If you are stay in an all-inclusive resort, you will probably have access to a courtesy van from the airport. If not, the minibus departures are frequent and correspond to flight arrivals. But if you absolutely can't wait to start your tan, taxis await just outside the airport to wisk you to your accommodations.
First you have to choose what part of Jamaica you want to see. Montego Bay? Ochos Rios? Negril?
Here is a breakdown of each area in detail along with the pros and cons of each area, hotel suggestions and more.
Montego Bay
Lodging:
Iberostar Grand Rose Hall
is winner of the Travelers' Choice 2014 Best All-Inclusive.
Set on an idyllic spot
sits the
Grand Hotel Rose Hall
, a fabulous
Resort and Spa
belonging to IBEROSTAR's elite adults-only, all-inclusive
Grand Collection
.
See our client's review of the resort!
Round Hill Hotel & Villas
is the
Travelers' Choice 2014 Winner for Luxury
Resort. It
will give you an escape to the understated elegance of their lush Jamaican resort in Ralph Lauren-designed oceanfront guest rooms or a luxurious private villa suites with dedicated staff. Make the most of each day, with everything from engaging family programs to relaxing spa treatments.
See our client's review of the resort!
Secrets Wild Orchid Montego Bay
exceeds expectations, as you enjoy fine wines, beers and other top-shelf spirits in any of their many bars, lounges and restaurants. You can even order your favorite cocktail poolside or on the beach. Your Unlimited-Luxury privileges include all premium beverages, all the time.
See our client's review of the resort!
Half Moon, A RockResort
, winner of
Travelers' Choice 2014 Best Family Resort,
is aptly named after the crescent shaped two-mile private beach, Half Moon, a RockResort is the embodiment of classical resort living.
See our client's review of the resort!
Sandals Royal Caribbean Resort
won
Travelers' Choice 2014 All-Inclusive Romantic Resort. It
has British heritage which begins with the Majestic Georgian-style Great House, surrounded by manicured gardens and roaming peacocks-all complemented with well-heeled traditions like continental breakfast in bed, afternoon tea, and a rousing game of croquet. Minutes away on the resort's private offshore island, the mysteries of the Orient unfold in a secluded natural setting where casual poolside and beachside pleasures beckon by day, while chic parties, an authentic Thai restaurant, and island-style extravaganzas invite excitement by night.
See our client's review of the resort!
Secrets St James
is set on a peninsula surrounded by the crystal-clear Caribbean, this quiet oceanfront destination offers adults the ultimate in sophistication, relaxation, romance and the privileges of Unlimited-Luxury.
See our client's review of the resort!
Sandals Montego Bay
spans the best private beach in Montego Bay, this playful and romantic Jamaica resort is where the fun never ends and the party never stops...until you do. The casual island mood will surround and relax you. The upscale setting will impress you, especially the luxuriously private, all-butler beachfront enclave known as the Honeymoon Hideaway Beachfront Estate that create a prestigious resort-within-the-resort.
See our client's review of the resort!
Nightlife:
A must-see bar in Montego Bay is Jimmy Buffet's
Margaritaville
. The bar is a Jamaican landmark that delivers great food, local lagers and killer margaritas to tourists and parrotheads. All this while offering some stunning views of the sea and the Coral Cliffs Hotel.
Since island nightlife begins as the sun is going down, finding a cozy spot to watch the sunset while there's still sand on your feet is a must.
Time 'n Place
oozes island relaxation. Sipping a Red Stripe under the bar's thatched roof is the very epitome of a Jamaican vacation.
While you are there:
Check out the Rastafari Indigenous Village which introduces visitors to authentic Rastafarian philosophy and culture.
Visit the website
Negril
Lodging
:
The Caves
is probably the most spectacular of all places in the world. It will give you the ultimate experience of absolute luxurious pampering in Jamaica. Book a stay at The Caves, the island's most exceptional accommodation, located near stunning Seven Mile Beach in Negril. The utmost in intimacy, adults-only Caves features 12 handcrafted wood and stone thatch-roofed cottages and suites perched alongside dramatic cliffs overlooking azure water; yes, every room has a fabulous sunset view. The impeccable service is complemented by high-end restaurant options -- quite arguably the best and freshest all-inclusive dining at any Jamaican resort. Though there is no beach on the property, the hotel features a saltwater swimming pool, multiple access points to the ocean, and one of the premier spas on the island. Room rates include breakfast, lunch, dinner, house wines and spirits and non-motorized watersports. Book a private dinner in one of the cliffside grottos for a perfectly romantic evening.
See our client's review of the resort!
Couples Swept Away Negril
is located in the midst of Jamaica's 7-mile stretch of pristine beach in Negril, Couples Swept Away lures travelers with its countless amenities, such as intimate swimming pools, perfect sand beaches, azure waters and open-air cafes.
Jamaica'
adults-only resort is a regular beacon for honeymooners looking to experience all-inclusive luxury at a romance- and activity-filled accommodation. Swept Away earns its reputation for action thanks to its large selection of sports offerings, including a 10-acre fitness complex, as well as kayaking, snorkeling, diving, windsurfing opportunities.
See our client's review of the resort!
Nightlife:
In Negril, the Mariner's Negril Beach Club is home to
The Jungle
nightclub. The vibe of this club can be inferred through its slogan, "unleash the animal." The wild clientele at this club aim to do just that. The bottom four floors of The Jungle are packed with dancers reveling in the themed music nights. Upstairs is the necessary "cool down" area where perspiration can dry and thirsts can be quenched.
If you're feeling rowdy, check out the scene at
Risky Business
. The bar is well-known as the city's party capital, and spring breakers pack into the bar nightly for mixed drinks and live music. You can participate in their raucous beach contests or sit and watch while you tip back your bottomless mug.
For a slightly more laid-back vibe, head to
Alfred's Ocean Palace
. It sits on a beautiful stretch of beach and offers fresh fruit cocktails and live music seven days a week. While reggae is prominent, you can also hear some jazz and country taking the stage. On Fridays, Sundays and Tuesdays, the bar throws big reggae shows with amazing local talent.
While you are there
:
Consider making a quick trip to Cuba. Several companies in Negril offer two day tours that include air transportation and one night hotel.
Head to Kool Runnings Waterpark and have a fun-filled day with the kids at this park equipped with 10 amazing water slides. Families can also experience The Adventure Zone filled fun activities, including the Laser Kombat Experience, Jamboo Rafting and Palisadoes Go-Kart Track.
Visit the website
Ocho Rios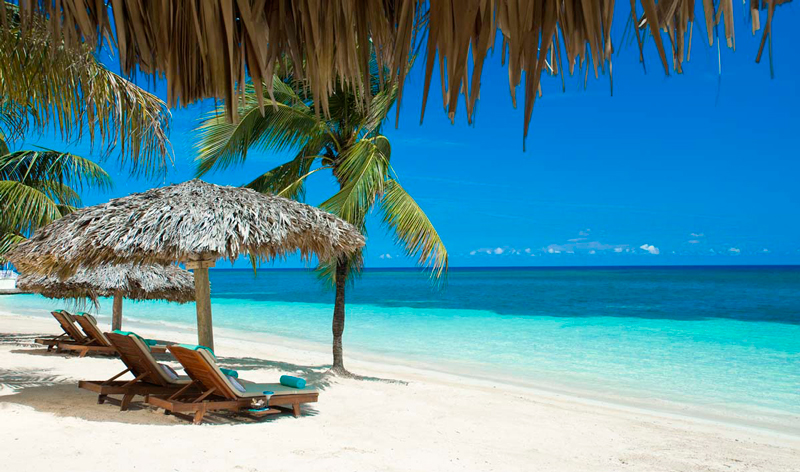 Lodging:
Jamaica Inn
is for travelers looking for an intimate, quiet stay in Jamaica. Here you will find your haven at the Jamaica Inn, a small, luxury, all-inclusive resort located in Ocho Rios. The elegant lodging has a mark in Jamaica's celebrity-studded past; it was once the stomping grounds for luminaries like Sir Winston Churchill, Errol Flynn and Katharine Hepburn. Today, the inn's understated luxury is evident on the property's croquet courts and in its library and bar. Rooms feature a colonial English decor, canopied beds, oceanfront balconies and sprawling open-air verandahs. You can relax under thatched umbrellas on the property's silky white sands, or enjoy snorkeling in the crystal clear waters. A variety of inclusive meal plans are available; the all-inclusive plan includes all meals and drinks by the glass.
See our client's review of the resort!
Sandals Royal Plantation
is an intimate all-butler resort of just 74 ocean view suites tucked into a magnificent coral bluff. You can spend your days lazing by the pool with cool libations delivered right to you by a beach butler. Tee off at nearby Sandals Golf & Country Club, followed by a spot of afternoon tea on the terrace. Renowned for unmatched attention to detail, this enclave of retro-chic sophistication showcases roaming peacocks and manicured lawns. This historic resort has long been a favorite hideaway for the international jet set and literary elite, with the likes of Ian Fleming and Noel Coward seeking tis casual island elegance and authentic Jamaican vibe back in their day. Today, exquisite original furnishings and new innovations - like Jamaica's only champagne and caviar bar - are designed to impress.
See our client's review of the resort!
Couples Sans Souci
'no worries' mantra comes to life as every day unfolds. Lose yourself exploring secluded stone pathways. Melt away stress in the healing natural mineral springs. Feel a rush of exhilaration scaling Dunn's River waterfalls. Or simply drift asleep in a hammock by the sea.
Located in vibrant Ocho Rios, the resort's design pays tribute to an understated colonial elegance—intricate latticework, white woven furnishings and feathered palms set a refined stage for your island escape. Dining options abound—from authentic Jamaican fare to five-star international cuisine. Private cabanas at cliff's edge provide the ideal setting for our signature spa treatments, while the choice of resort activities knows no limits.
See our client's review of the resort!
Sandals Grand Riviera Beach and Villa Golf Resort
is like nothing else in Ocho Rios, Jamaica, with three distinctive experiences in one incredible resort. It's a hip beach club with a chic vibe, day or night. A seaside garden paradise with babbling brooks and extraordinary ocean views. An exclusive All-Butler Village with a plantation-style Great House perched atop a mountain, where cool drinks are served with warm hospitality. A true Garden of Eden encompassing over 100 acres, this resort is so vast and lush that, no matter where you find yourself, you'll always feel as if there's plenty of space for just the two of you. All the things that make Jamaica such a uniquely spectacular destination are at the heart of Sandals Grande Riviera. Jamaica's most dramatic luxury all-inclusive resort has truly arrived.
See our client's review of the resort!
Nightlife:
After the bands have finished their sets, move to one of Jamaica's many late-night dance clubs. In Ocho Rios,
Amnesia
brings local music to the dance floor with fierce island spirit. The club's two dance floors offer an array of musically themed nights, including dance hall and reggae. Take a break from the heat of the dance floor on the club's relaxing open-air patio where the vibe is a more laid-back.
Head to
BiBiBips
for some of the island's best jerk dishes and live tunes. Live music can be heard here every Friday, Saturday and Sunday night, featuring reggae bands and some rap. The sprawling open-air patios and verandas are the perfect setting for brews and beats.
While you are there:
Check out Dunn's River Falls & Park and climb the falls in a human chain with an experienced guide, and explore one of Jamaica's natural treasures.
Visit the website